J
anie Chang asserts herself as an exciting, relatable voice ... a voice that requires us to re-examine our relationship to place, identity, and ancestry" - Quill and Quire
---
The Library of Legends
China, 1937. When Japanese bombs start falling on the city of Nanking, Hu Lian is cut off from her home and must evacuate with her university. Students, professors, and staff become refugees as they embark on a thousand-mile journey on foot. They bring personal belongings, library books, lab equipment, kitchenware, and most precious of all - the Library of Legends, the only existing copy of a 500-year old collection of myths and folklore. Shared hardships draw Lian closer to her classmates, forging new friendships and possibly a romance. But a family secret makes her vulnerable to political machinations and Lian is forced to turn away from her friends, especially after a student is found murdered.
"A beautifully-written story of a pivotal period in the making of modern China ... Luminous and enthralling." -- Margaret George, New York Times bestselling author of The Splendor Before the Dark, The Confessions of Young Nero, and The Autobiography of Henry VIII.
"A gorgeous, poetic journey ... pure enchantment!" -- Kate Quinn, New York Times and USA Today bestselling author of The Alice Network and The Huntress
---
Dragon Springs Road
In early 20th century Shanghai, an ancient imperial dynasty collapses, a new government struggles to life and two girls are bound together in a friendship that will be tested by duty, honour and love.
Abandoned in the courtyard of a once-lavish estate outside Shanghai, seven-year-old Jialing learns she is zazhong—Eurasian—and thus doomed to face a lifetime of contempt from Chinese and Europeans alike. The Yang family, new owners of the estate, reluctantly take her in as a servant. As Jialing grows up, her only allies are Anjuin, the eldest Yang daughter, and Fox, an animal spirit who has lived in the courtyard for more than three hundred years. But when a young English girl appears and befriends the lonely orphan—and then mysteriously vanishes—Jialing's life takes an unexpected turn. A Globe and Mail National Bestseller. Nominated for the 2019 International Dublin Literary Award.
---
Three Souls
We have three souls, or so I'd been told. But only in death could I confirm this ...
China, 1935. The ghost of a young woman watches her own funeral. While she lived, Song Leiyin was trapped between passion and obedience to her family. Now that she's a ghost, Leiyin must discover how she can atone for the death of her lover or remain trapped forever on this earth.
Accompanied by her three souls—stern and scholarly yang; impulsive, romantic yin; and wise, shining hun, Leiyin delves back in time to review her life and sees the spoiled and privileged teenager she once was. But when she learns what must be done to release her into the afterlife, she also realizes the time for making amends is shorter than she thought. Nominated for the 2015 International Dublin Literary Award. Finalist for the 2014 BC Book Prizes Fiction award.
---
J anie Chang draws upon family history for her novels, incorporating tales of life in China before the Second World War and legends about ancestors who encountered dragons, ghosts, and immortals.
Born in Taiwan, Janie has lived in the Philippines, Iran, Thailand, and New Zealand. She now lives in Vancouver with her husband and the rescue cat known as HRH Mischa, Queen of the Universe. MORE ...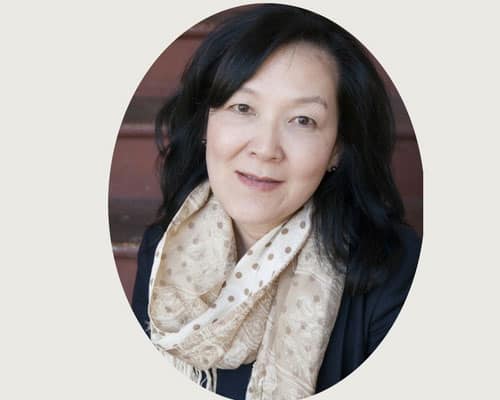 S ocial media. Sigh. Yes, I'm active on Facebook, check in regularly to Twitter, fallen behind on Pinterest and HRH Mischa the feline writing mentor seems to have taken over my Instagram account. Follow at your peril. But if you only want to be bothered by the Really Big News, just sign up to my Newsletter.
---
---