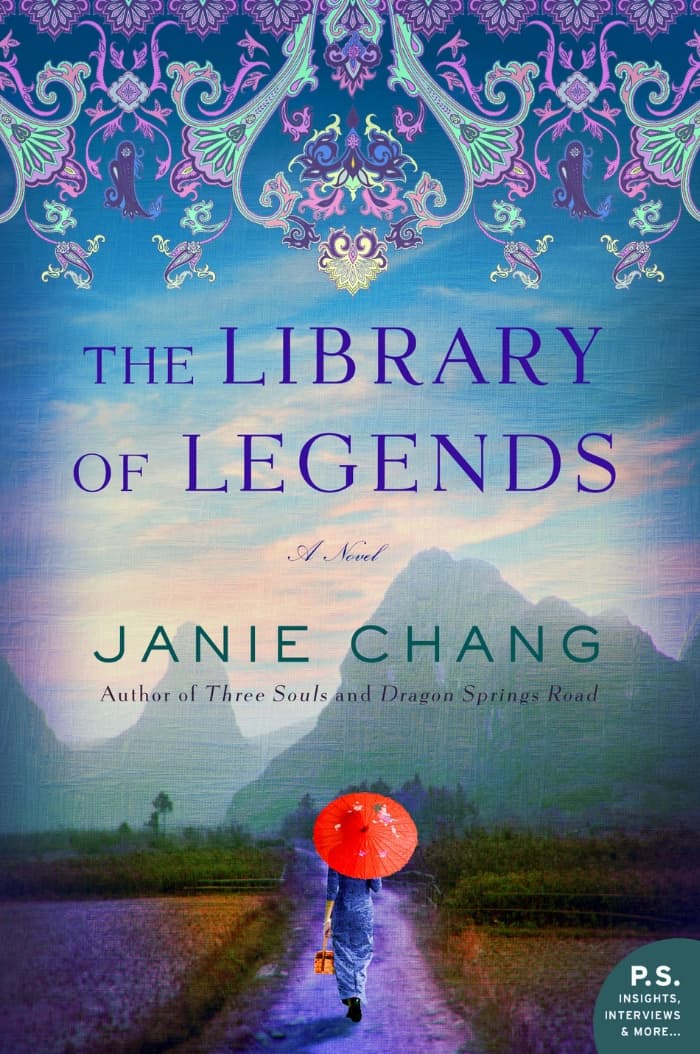 The Library of Legends
Globe and Mail national bestseller, Book of the Month Club April 2020 pick, finalist for the Ontario Library Association's Evergreen Award
"Myths are the darkest and brightest incarnations of who we are . . ."
C hina, 1937. When Japanese bombs begin falling on the city of Nanking, nineteen-year-old Hu Lian and her classmates at Minghua University are ordered to flee. Lian and a convoy of students, faculty and staff must walk 1,000 miles to the safety of China's western provinces, a journey marred by the constant threat of aerial attack. And it is not just the refugees who are at risk; Lian and her classmates have been entrusted with a priceless treasure: a 500-year-old collection of myths and folklore known as the Library of Legends.
Her family's past has made Lian wary of forming attachments, but the students' common duty to safeguard the Library of Legends forms unexpected bonds. Lian finds friendship and a cautious romance with the handsome and wealthy Liu Shaoming. But after one classmate is murdered and another arrested, Lian realizes she must escape from the convoy before a family secret puts her in danger. Accompanied by Shao and the enigmatic maidservant Sparrow, Lian makes her way to Shanghai, hoping to reunite with her mother.
During the journey, Lian learns of the connection between her two companions and a tale from the Library of Legends, The Willow Star and the Prince. This revelation comes with profound consequences, for as the ancient books travel across China, they awaken immortals and guardian spirits who embark on an exodus of their own, one that will change the country's fate forever.
Based on true events, rich in Chinese history and lore, The Library of Legends is both an illuminating exploration of China's recent past and an evocative tale of love, sacrifice, and the extraordinary power of storytelling.
Praise for The Library of Legends
"There are many historical novels that begin in China in 1937 when the Japanese invade, but Janie Chang has found a new and fascinating story to tell about the university students and faculty who trekked hundreds and sometimes thousands of miles to escape the Japanese while preserving not just China's best minds but also China's most precious books. I was entranced by the magical spirits, immortals, and fox spirits who accompany them. Janie Chang has beautifully melded history and the spirit world to create an adventurous love story for all of us readers who love books and who, in a perfect world, would do anything to save them."
- Lisa See, New York Times bestselling author of The Island of Sea Women and Snow Flower and the Secret Fan
---
"The Library of Legends is a beautifully written story of a pivotal period in the making of modern China: when the invading Japanese, the Nationalist, and Communist parties all vied for supremacy.  Amidst this, the Chinese determination to preserve their culture was heroic and saved precious historical treasures at great sacrifice.  Interwoven with the historical characters are ancient mythological ones in a blend of wonder, courage, and suspense.  Luminous and enthralling."
- Margaret George, New York Times bestselling author of The Splendor Before the Dark, The Confessions of Young Nero, Elizabeth I, and The Autobiography of Henry VIII.
---
"The Library of Legends is a gorgeous, poetic journey threaded with mist and magic about a group from a Chinese university who take to the road to escape the Japanese invasion of 1937 – only to discover that danger stalks them from within. Janie Chang pens pure enchantment!"
- Kate Quinn, New York Times and USA Today bestselling author of The Alice Network and The Huntress
---
"Janie Chang's The Library of Legends is a delicious mix of history, myth and romance. Chang deftly intertwines Chinese folklore and historical detail to create a magical, heartfelt read."
- Jean Kwok, New York Times bestselling author of Girl in Translation and Searching for Sylvie Lee
---
"Love and fate entangle in a tender tale of star-crossed romance and scholarship. In The Library of Legends, Janie Chang whisks the reader on a journey of a lifetime, with the transportation of a university library of rare books on foot across China. Based on Chang's father's own experience as a student-in-exile, it interweaves the pressures of war with a poignant saga of love lost and gained. As the Japanese army advances, Lian and Shao, together with their schoolmates and Shao's mysterious companion, Sparrow, hurry to transport the precious ancient library, while enduring hardships and betrayal, old and new loves. Vibrant, rich, and moving, The Library of Legends brings an unusual true episode in Chinese history to shimmering, heartfelt life."
- Yangsze Choo, New York Times bestselling author of The Ghost Bride and The Night Tiger
---
"Janie Chang's The Library of Legends delivers stark historical truths on the tail of a shooting star. Absolutely enchanting."
- Ana Johns, bestselling author of The Woman in the White Kimono
---
"Janie Chang has done it again with this story of an exodus of young students -- treasured as China's future -- intermingled with an imaginary, unconventional departure of mystical beasts and legendary deities during a war that changes China forever. Evocative, unforgettable, The Library of Legends is truly out of this world!"
- Weina Dai Randel, award-winning author of The Moon in the Palace
---
"Atmospheric and beautifully told, Janie Chang has woven a tale that tugs on the threads of China's history and legend alike. Readers will find themselves immersed in this story of love amidst war, hope amidst sacrifice."
- Stephanie Marie Thornton, USA Today bestselling author of And They Called It Camelot
---
"Janie Chang brings wartime China to life in The Library of Legends, imbuing her characters with the same epic qualities they find in the mythic figures that follow them on their journey to safety. Moving smoothly between historical fiction and magical realism, this is a beautifully written story of love, hope, and courage."
- Bryn Turnbull, author of The Woman Before Wallis
---
"Janie Chang's The Library of Legends tells an unforgettable story of love, grief, longing, and duty amid the dangers of war. Lyrical and moving, the novel weaves Chinese history and legend into a seamless, captivating tale. I couldn't put this book down!"
- Kristin Beck, author of Courage, My Love