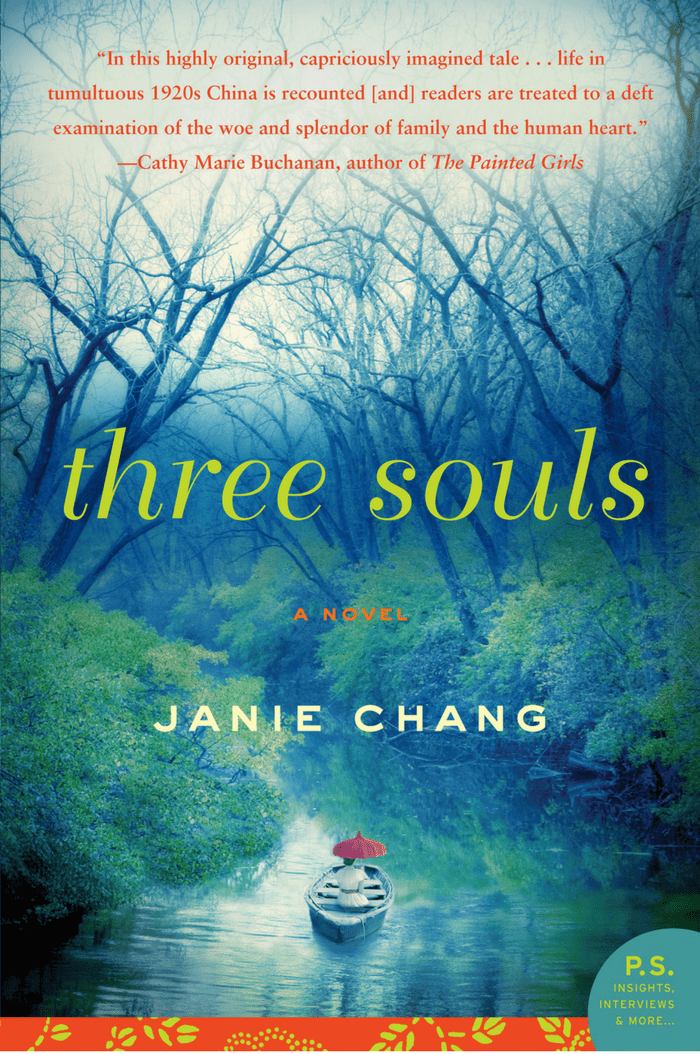 Jan. 16, 2017   LovingSister.com
Book review in Chinese language women's online publication. 
March 16, 2014  Providence Journal.  "Too many novels today lack a sense of sweeping time ... creating a world so vivid you didn't want to see it end ... Chang's debut novel, "Three Souls," is a delightful exception ... (she) skillfully weaves China's story with the fate of her characters, giving the novel a tone of importance that never becomes dull or pedantic."
Feb. 2014, Issue 67 Historical Novels Review.  Editors' Choice. "A remarkable, exquisite work of historical fiction ... highly recommended as a wonderful read and an experience of creative, brilliant writing."
Feb. 2014  IO9  All the SF and Fantasy Books You Can't Miss in February!  Nice of IO9 to spot the cross-genre content of Three Souls!
Jan. 1, 2014     Booklist (not online)
"In the midst of civil war on the eve of the Chinese Revolution, Song Leiyin awakens to find herself rising above her own funeral. According to Chinese tradition, she joins her soul, trapped in the space between Earth and the afterlife. She must revisit her life to right whatever wrong is keeping her from going on to reincarnation. Leiyin is alternately joyful and pained as she remembers the moments of her youth. Growing up, she strained against the chains imposed by her traditional Chinese family, ultimately committing a misstep that ended in her father arranging an unwelcome marriage. But even this fate had its joys. Now endowed with the gift of hindsight, Leiyin grieves her errors and urgently strives to set things right for her family, her husband, and her young daughter before it's too late. Leiyin is a sympathetic character, and her journey of self-realization is mirrored in China's time of political upheaval as traditional culture gives way to the future. Both heartbreaking and hopeful, Janie Chang's first novel is an immersive and enjoyable read." 
 Dec. 2, 2013  Publishers Weekly Review. "... A moving fiction debut ... her novel bristles with freshness and heart."
Nov. 2, 2013  OMNI TV. Interview (Mandarin and English, with Chinese subtitles)
Oct. 30, 2013 IFOA Markham. Interview with IFOA Markham Author
Oct. 30, 2013 Global Chinese Press. Interview (in Chinese)
Oct. 21, 2013 The Peak.  Coverage of Vancouver Writers' Festival 
Oct. 12, 2013 Vancouver Sun. Main Character's Death Spurs Tale
Oct. 11, 2013 Toronto Star. Recent Books of Note.  
Oct. 7, 2013  LiterAsian Blog. LiterAsian Features Janie Chang
Sept. 20, 2013 Vancouver Int'l Writers Fest Blog. Janie Chang
Sept. 6, 2013 49th Shelf Blog.  The China You Might Not Know
Aug. 30, 2013 Winnipeg Free Press. Enjoyable tale of scandal, ambition.  
Aug. 2013 Ricepaper Magazine.  Artifacts: Vancouver's Newest Asian Canadian Voice Janie Chang (full article available in print only)
Aug. 26, 2013 Indigo Fiction Blog. Janie Chang, On The Ghost Behind Her Novel, Three Souls
Aug. 21, 2013 OpenBook Toronto. At the Desk: Janie Chang