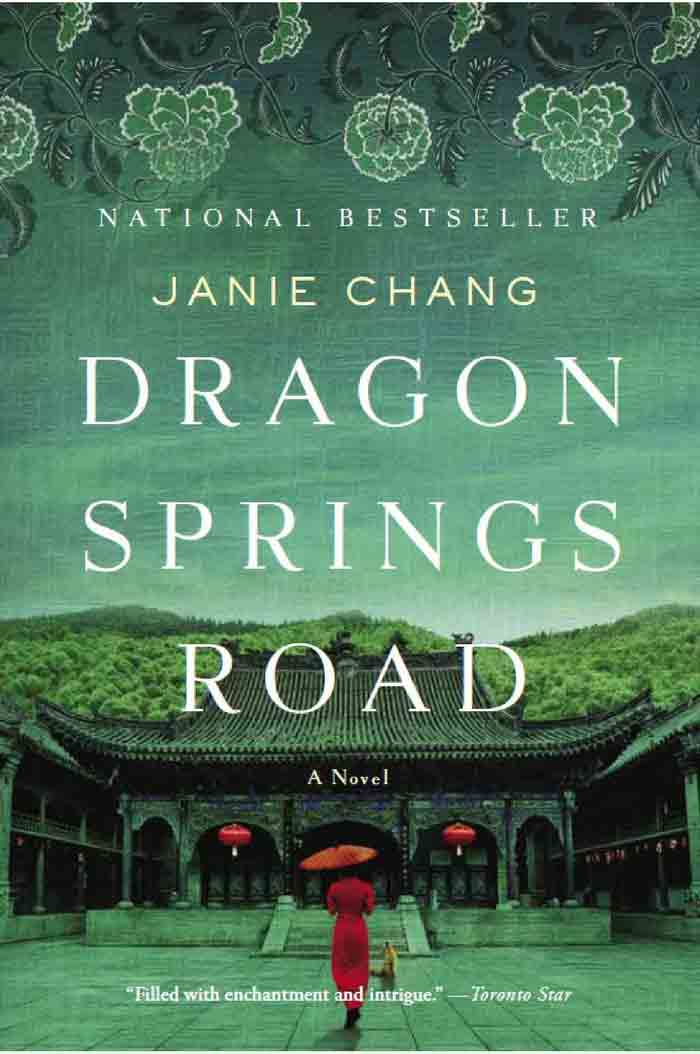 Autumn 2017   Canadian Literature Reading China through the Diaspora.
June 24, 2017   The Bend Bulletin.  Family History the Backdrop of Novel.
April 29, 2017   CBC North by Northwest interview; about 38 minutes into the segment.
April 20, 2017   Get Lit on 93.3FM CFMU Interview
April 19, 2017   CBC Q Radio Program's Review of Dragon Springs Road [begins at approximately minute 40:35 of the full episode]
March 9, 2017   Quill and Quire (starred review!)
Book Review: "Janie Chang's second novel is a remarkable read, brimming with magic and the grit of realism ... With this novel, Chang asserts herself as an exciting, relatable voice in Canadian fiction. "
March 2017    Historical Novel Society
Book Review: "Dragon Springs Road is a captivating novel about a Eurasian girl's journey for identity and self-acceptance in a society rooted in traditional values." 
Feb. 21, 2017   Bookdragon [Smithsonian Asian Pacific American Center] author interview
Feb. 20, 2017   CBC The Next Chapter with Shelagh Rogers
A short radio spot. About 4 minutes. 
Feb. 15, 2017  CBC Books 
The most popular books in Canada this week
Feb. 14, 2017   Radio New Zealand Nine to Noon
Dragon Springs Road reviewed by Ann Else. About 4 minutes. 
Feb. 7, 2017    Hamilton Review of Books
An interview with senior editor Rhonda Dynes. 
Jan. 27, 2017   LitHub
In conversation with Shilpi Somaya Gowda. The Sophomore Novel Club: On the Dreaded Second Book.
Jan. 27, 2017  The Globe and Mail
The Book Report. 5 questions for the author.
Jan. 27, 2017  The Vancouver Sun
Book review. "The enthralling story includes gangsters, racism, corruption and more. It's both a pleasure and an education to read this sensitive, intelligent novel."
Jan. 22, 2017  The Toronto Star
Book review. "Filled with enchantment and intrigue, this novel shines brightly with lyrical prose."
Jan. 20, 2016   CBC Books
Article: How Janie Chang Melds History with Folklore in Dragon Springs Road
Jan. 16, 2017   49th Shelf
Historical fiction to read this spring
Jan. 10, 2017 The Strand Magazine
Publishes my list of Top 8 Mysteries Set in China
Jan. 10, 2017  Book Club Girl
Article. To Be a Girl, Orphaned, and Eurasian - Author Janie Chang on Dragon Springs Road
Jan. 10, 2017  BFM Radio
Malaysian radio program about books. A fun conversation with interviewer Uma Ampikaipakan
Jan. 10, 2017  The Huffington Post
"... Beautifully told…fascinating…a great choice for a book club."
Jan. 6, 2017  PopSugar
Names DRAGON SPRINGS ROAD a "Top Winter Read"
Jan. 6, 2016  The Sacramento Bee
Spotlights DRAGON SPRINGS ROAD in a "Cultural Books" roundup.
Jan. 6, 2017  RT Book Reviews
Book review. "Lyrical and magical…Chang's lovingly crafted novel will resonate with readers long after the story is done."
Jan. 6, 2017  China Radio International
Ink and Quill, a radio program about books. Author interview. and book review.
Jan. 4, 2017  CBC Books
Lists DRAGON SPRINGS ROAD on 5 Books We Can't Wait to Read in January
Jan. 2, 2017  BookBub
Lists DRAGON SPRINGS ROAD on 21 of the Biggest Historical Fiction Releases Coming in 2017
Dec. 21, 2016   Ricepaper Magazine
Book Review. "… Janie Chang's writing is beautifully interwoven by her extraordinary skill of storytelling … a compelling and intriguing plot, and memorable characters who feel like they would be friends/ family in your life... authentic, rare, intriguing, and worthwhile".
Nov. 15, 2016  Booklist (not online).  
Book review. "Jialing never thought to question her sheltered existence with her mother alone in a house on the outskirts of Shanghai. But, as she would learn, a Fox spirit at the residence was responsible for suppressing any curiosity she might have about the world outside.
After Jialing's mother abandons Jialing, a mixed-race girl of seven with no prospects for her life but the brothel or a factory, Fox wields her influence to find Jialing a place as a servant with the property's owners. As Jialing searches for her mother, she feels the constant pressure to determine what she will do once her period of servitude ends. A deadly encounter then sets her life on a new course, and even Fox's powers are put to the test as Jialing strives to stay safe.
Chang unfurls this intriguing story—set against the chaotic backdrop of China in the early twentieth century—with precision. Rich with detail and a fascinating interplay between the spiritual and earthly realms, Chang's second novel explores whether it is possible to overcome your past."